kandi keyes-winford
STYLE MAP: Kandi Keyes-Winford
laura rice designs is pleased to feature Kandi Keyes-Winford in this inaugural edition of Style Map. This style-forward wife and mother of three rocks it like few do! Although she works in a traditional field, Kandi eschews boxy business suits in favor of eclectic clothing that emphasizes her sense of self and compliments her full-figure.
Before I even met Kandi, I recognized her incredible style. She was in her office lobby wearing a beautiful, Kelly green, asymmetrical trench coat. Having seen her number of times while I ran errands, I became a fan of her eclectic style and wanted to share it and her with you.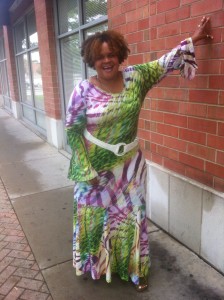 Occupation: Financial Representative

Passions: My family and helping others
Hometown: Homestead, Pennsylvania
Current City: Chicago
Favorite City: Chicago
Favorite Places to Shop in Chicago: Essential Elements, Ashley Stewart, and Ashro or anywhere I see something I like.
Favorite Place to Dine in Chicago: No specific place. I really like home cooking.

How Do You Start Your Day? I make sure my children have everything they need to be successful including a good breakfast and great attitudes.

Favorite Breakfast: I love bacon, sausage and omelets.
Fruit: Pineapples and nectarines
Beauty Routine
Face: I use black soap, Mary Kay moisturizer, and MAC.

Skin: Scented Shea Moisture or Creamy Cocoa Butter Petroleum Jelly

Hair: I am natural and my cousins cut my hair.

Hair Color: My hair color is accomplished through a tri-weave method at Everything's Relative Salon and Day Spa, which uses Aveda products.
Nails: I don't get manicures anymore, but I do my own pedicures.

What Do You Do Before You Go to Bed? I wash my face and pray with my family.
Describe Your Style Different. I like to wear items that may be "out the box." I don't like to wear what everybody else is wearing.                 
Who Are Your Style Icons? When I was younger it was definitely Lisa Bonet's Cosby Show character Denise Huxtable and Boy George. Now, I really don't have one.              
What Are Your Favorite Clothing Brands? No specific brands. If I see something that I like, I make it work with what I already have in my wardrobe.
Do you adhere to any style rules? No special rules. People tend to be afraid be themselves and only follow trends. I just make sure that I look presentable at all times according to my weight and age.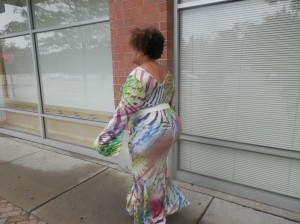 What's Your Favorite Outfit? I have this new linen outfit that I absolutely love. With its over-sized pants, it's such a comfortable and fashionable outfit. I also LOVE Poet Shirts and have them in several colors!                                                             
What Outfit Is Missing From Your Wardrobe? A funky, 70s-style, wide-legged, denim halter jumpsuit with a single-breasted blazer with bell sleeves.
What Are Your Plans for the Remainder of the Summer? I plan to enjoy my family!
Favorite Summer Food: My husband makes the best ribs and awesome crab legs and lobster.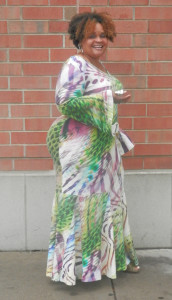 Favorite Summer Drink(s), alcoholic or non-alcoholic: Sangria, Arizona Ice Tea and water
I hope you have enjoyed getting to know Kandi Keyes-Winford as much as I have!
 Kandi's clothes are her own.Dress: Ashro.com and Shoes: Born
Photo credit: laura rice, lauraricedesigns.com, ® 2013