laura rice

STYLE MAP: Laura Rice
Occupation fashion designer and a whole lot of other thangs
Passions fashion, art and culture, & family
Hometown Chicago
Current New York City
Favorite City I have much more traveling to do before deciding.
Favorite Place to Shop I don't have one favorite place to shop as my wardrobe is an eclectic mix of high and low-end pieces including items I've designed and those I've purchased from Courtney Washington, Marina Rinaldi, Eileen Fisher, Lane Bryant, and Ashley Stewart.  However, I do LOVE the boutique shopping experience: Essential Elements in Chicago, Marina Rinaldi and Courtney Washington in NYC, and Abundance in the Los Angeles area. How I miss The Forgotten Woman! The store carried a range of high-end and luxury designer, plus-size clothing, shoes and wide-calf boots, and jewelry under one roof.  Now that was a fabulous shopping experience!
Favorite Places to Dine
Palma, Manhattan. This low-key, beautiful restaurant has excellent Italian and Mediterranean food.

The Islands,  Brooklyn. Don't walk fast or you'll miss this Caribbean gem near the Brooklyn Museum of Art. You can taste the coconut milk in the rice and peas. Make mine with oxtail gravy, please.

Soul Vegetarian, Chicago. Overall, the food is wonderful, but the raw bar is phenomenal.

Senegalese restaurants for Dibi Lamb, Fish Yassa, or Vegetable Mafé

Thai and India food: As long as it's good, I'm there.
How Do You Start Your Day? I always turn off my phone's alarm clock before it rings, so I'm not sure why I even set it.  That ritual is followed by morning devotion, a quick mental review of my schedule then I generally hit the floor and get my Pilates on.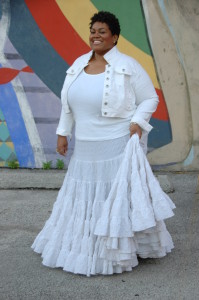 Favorite Breakfast
At Home: Oatmeal with brown sugar, raisins, vanilla rice milk and a side of double-toasted brown rice bread with either butter or Earth Spread; an omelet and with spinach or kale; or  an organic fruit or veggie smoothie. Hold the bananas, please!
Favorite Breakfast Spots: My absolute favorite breakfast place is Cheryl's Global Soul in Brooklyn where the Chantilly Cream is decadent and the Salmon Hash is always savory and satisfying. In Chicago, it's Ina's.  Sadly, Ina is retiring and this Chicago favorite will close early next year. I hear Sweet Maple Cafe is wonderful as well.  Unfortunately, during the weekend, I've never gotten there early enough to get a table without waiting less than 45 minutes. Since I don't do lines, I haven't eaten there-yet.
Favorite Drink (Alcoholic or non-alcoholic)
Hands down, Limonada is my favorite drink. It's so light and refreshing. I drank lots of it in Cuba. Give me citrus fruit and seltzer water and I'm a happy camper.
Beauty Routine
Face: Origins'

Never A Dull Moment

cleanser and

Zero Oil

toner
Makeup: A combo of Origins, Iman, and Nars. I'm excited to try Fashion Fair again. The lip colors are phenomenal! Check out Fashion Fair's homage to lips in

Say Ye

s

directed by Ava DuVernay
Body: Organic Castor Oil, Organic Coconut Oil, and Trader Joe's

Moisturizing Cream Extra Dry Skin Formula

Nails: Believe it or not, sometimes it's more convenient to do a my own nails. But when I'm in NYC it's generally the Polish Bar.

Hair: Frances at Michael & Michael (Chicago) and Cecilia at Salon Cecelia (NYC)

Hair Products: It all comes down to the weather, but I generally use

Sweet Ambrosia Leave-In Conditioner

and

Butter Love

from Karen's Body Beautiful & Jane Carter's Curl Defining Cream

Hair Color: Yes!
Describe Your Style Eclectic Glamour
What Are Your Favorite Clothing Brands? Of course, laura rice designs (coming soon),  those mentioned above plus the always inspirational Rick Owens, Romeo Gigli, Gemma Khang, Akris, and Zero+ Maria Cornejo. For shoe fly-ness, I love Tsubo and Robert Clergerie's wedges and booties and U.S. made Cydwoq, pronounced "sidewalk."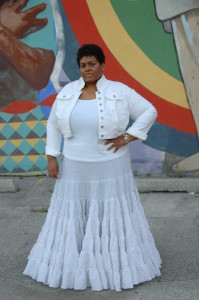 What Are Your Style Rules?
1. Ignore most trends.
2. Buy quality.
3. As long as it flatters,showcases my assets and works with my existing wardrobe, buy it.
4. If I can't live without it, buy multiples.
5. Replace shoes strings with grosgrain ribbon.
6. Dress with musical accompaniment.
What's Your Favorite Outfit? Why just one?
What Do You Do Before You Go to Bed? It depends on the night but, generally, the last thing I do is put my phone on its charger.
What Are Your Plans for the Fall?
My three main fall projects are working on laura rice designs, learning Italian, and traveling.
Laura Rice is wearing an Ashley Stewart white jean jacket, a ribbed tank top by Lane Bryant, and Courtney Washington's Pucker Skirt. Photographer: Kenneth L. Simmons/Assistant Photographer & Assistant: Toi Rice-Jones/Assistant: Anais Jermany.
® laura rice, lauraricedesigns.com 2013